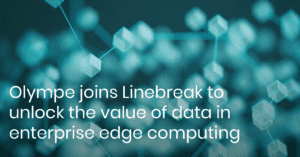 London & Lausanne, 19th October 2023
Linebreak, a global edge solution group, and Olympe, the leading enterprise composition platform, are pleased to announce a new strategic partnership.
Linebreak's platform enables enterprises to rapidly validate and deploy secure edge computing solutions at scale, with Olympe providing the composition component. As an underlying technology in Linebreak's modular platform, Olympe's event-driven, distributed architecture is a strong fit for the heterogeneous edge.
The enterprise edge is highly distributed and fast moving: the market will reach USD 445BN by 2030(1) with edge data growing by 33% annually from 2025 (2) Ongoing digitalization and a critical need to harness more data for enterprise AI models are driving the growth.
Edge computing presents an incredible opportunity for enterprises to fuel innovation and strategic growth, but only if they can unlock the value of their data.
Laurent Chatelanat, CEO of Olympe commented, "We are thrilled about our partnership with Linebreak to empower enterprises in harnessing the full potential of the edge. With Linebreak's expertise, Olympe will showcase the immense value of composability within the edge computing domain."
Linebreak's CTO, Dolo Miah, explained, "Linebreak addresses the heterogeneity of the enterprise edge through our modular platform, with composition as a key capability. Olympe's track record and Gartner recognition(3) made them the natural choice to provide composition for our edge solution platform."
1 – STL Partners, 2 – IDC, 3 – Gartner
About Linebreak
Linebreak is a leading edge-first solution group with operations in the United Kingdom and Switzerland. The company enables enterprises to validate and deploy solutions that securely unlock the value of their edge computing data at speed and scale.
The Linebreak platform is powered by the world's most advanced edge tech stack, incorporating innovative technologies from providers in the Linebreak ecosystem including Akamai, Cysec and Olympe.
About Olympe
Based in Switzerland, Olympe is a leader in enterprise software composition, empowering businesses to address complex technology challenges. Olympe 's full-stack platform, allows organizations to seamlessly orchestrate their IT systems, combining data sources to craft purpose-driven solutions.
Olympe's event-driven, distributed architecture integrates smoothly with current development tools, ensuring future-proof flexibility and deployment from cloud to edge.
Connect What You Have, Create What You Need – Now.